Skip Navigation
Website Accessibility
Welcome to our Virtual Show and Tell - Customers and Employee Makes
This is a place for showing off your latest projects made with University of Sewing products & fabrics
We love showing off your makes so send us a picture and let us know if we can include your name, and if there's a story to go with your make include it!
Send your email to: info@universityofsewing.com.


Connie Fitzsimmons NC Morning Mist Morning Spin quilt 56" x 69.5"


Pat Car's quilt for a granddaughter!



Pam Walter's latest creation - Cashmette jacket
Off White hammered satin


Marty Swank's latest quilt


Reena Fleischhauer's dress for her granddaughter using Lewis & Irene's Secret Garden.
How cute is this?

Karlyn Grise's fun quilt top with almost all University of Sewing fabrics!


Betsy Glassey's 1st Quilt on her new Classic Frame Bernina Longarm


Joan Kimberton
quilted by Jane Pitt


Amy Lifton
Kaleidoscope



Legene White's quilt top - yet to be quilted and a very nice gift



Mary Hollinger Basket Quilt


Angela Kelley's Neon Christmas stash buster quilt (made from a UofS kit)


Angela Kelley's Fab Embroidered Pillow



Karen Levay's Winter Quilt



Nancy Hoke lovely embroidered gift


Pam Walters
showing off her latest make from Robert Kaufman Black French Terry



Check out Monica Jensen's latest creation from the Northcott Spirited line!





Congratulations to the Winners of theBloomington Quilter's Guild Challenge

Susie Goodman 1st place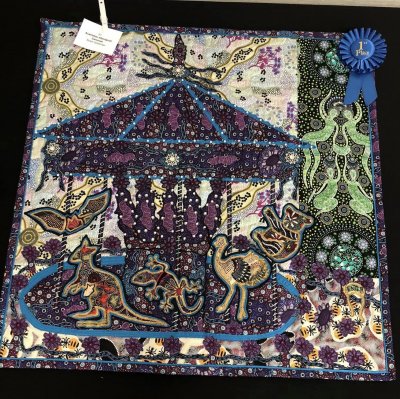 Julie Higgins 2nd Place



Sarah Cochran 3rd Place


Teresa McFall's
City Lights quilt



Susie May's quilt
Lori Holt Row by Row


Linda Sobek
Using 2 free Tilda patterns


Angie Raynard
wearing a Stof knit



Katie Jones
Original Pattern Northcott cotton fabric


Pam Walter's
original pattern using a Nani Iro cotton


Joan Hughey's amazing button-up blouse using our printed chiffons



Marty Swank's miniature : 1196 ways to go wrong




Patricia Wieligman's Cool Halloween Cards


Mona Pearson's blocks using the Venice collection!




Trish Shafer completed her Amanda Murphy Longarm Cover




Teresa McCall's Indygo Junction Kimono out of Stof Knits!




Mary Miller's Blocks from the Granny's 1930 Sampler



Teresa McFall's Version of the
A Little Somethin' Jacket out of RJR's Rayon Cotton+Steel Hermione Slate Great Job!

Carolyn Madvig made a wallart piece of a Marcia Derse's Curiousity Squares



Marti Crouch's crossover apron out of
Windham Seven Seas Interlocking Rings Gold